Our Credo
MW Office is a healthcare agency with a workforce of approx. 100 which specializes in the pharma market and offers a full, cross-media service covering all areas of activity around OTC/DTC and Rx drug advertising and communications.
Andrea Biebl has been CEO of MW Office GmbH since January 2016 and heads the agency together with Managing Director Alexandra Trudnowski. Having taken over the reins from Werner Kern, who was instrumental in shaping the agency and the pharma media sector in general, Andrea Biebl is now successfully managing the transformation of one of the leading healthcare communications agencies. "Our clients' requirements have changed. As an agency, we need to be able to offer integrated, end-to-end communications solutions going forward, and digital media are increasingly central to this."
MW Office is a "one-stop" provider offering one of the broadest service portfolios of any healthcare agency. We have 45 years' experience in managing the media budgets of specialist medical and pharmaceutical journals and mass media. We are the leading player in the media Rx market with a market share of almost 70%. Due to the rapidly changing media environment, the media OTC/DTC market is set to become much more important, and we have already seen an upsurge in digital media in particular. With this in mind, we developed the relevant competencies early on by setting up a dedicated digital department. Our public relations experts have what it takes to ignite your specialist and mass media campaigns for prescription and OTC drugs. In addition, MW Office is the go-to partner when it comes to customized publishing (CP), reprints and Arzt-Informations-System (AIS).
Our clients' interests and wishes are at the heart of everything we do – and have been since 1971.
Our Experts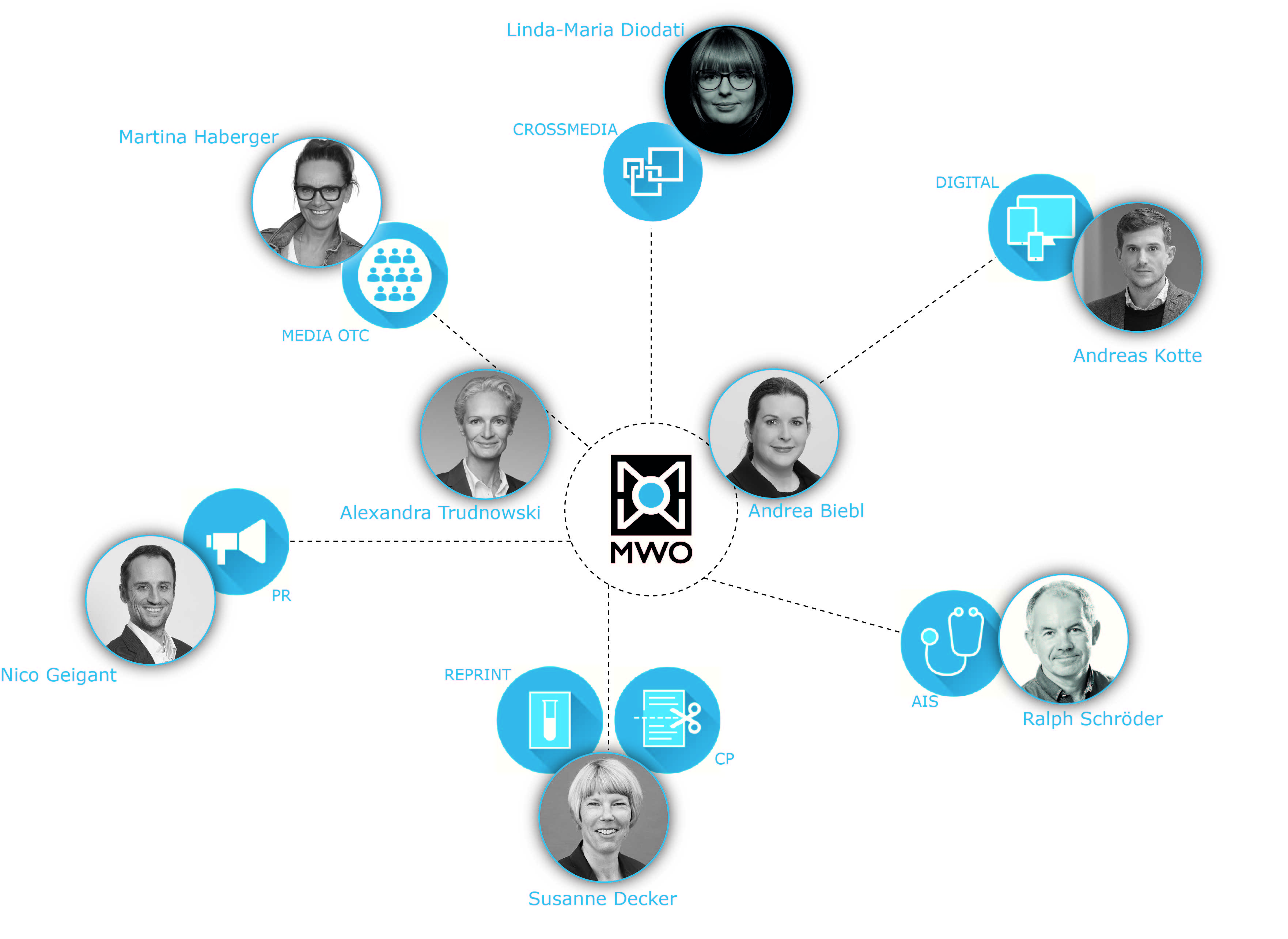 Our experts and their teams work together on a cross-disciplinary basis. Details of our services and contact data for our individual experts can be found here. They will be more than happy to answer your queries.